March and the Muse
Hi everyone,
I am really excited about hosting a Margie Lawson Immersion Class at my beach house on the east coast of Tasmania this month. It will be Margie's first Immersion in Tasmania so that will also something to celebrate. It is an intensive five days of working through our stories with Margie and bringing out the best of our writing and learning new techniques. I can think of no better place to work on the muse than the east coast of Tassie. We have the most spectacular sunrises and sunsets 9 ( see photo) and just last week I saw the Aurora Australis ( Southern Lights). And the night sky is just magical without all the light pollution of town.
I have a book out this month- The Temporary Mrs Marchetti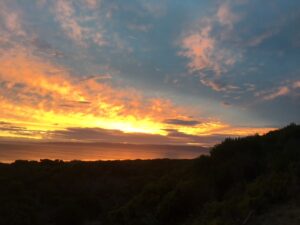 and I have just turned in my 75th novel ( title yet to be announced).
Best wishes,
Melanie