Get updates, exclusive content, and more delivered right to your email. Sign up for Melanie's Newsletter today.
Sign up
Now Available
The Tycoon's Marriage Deal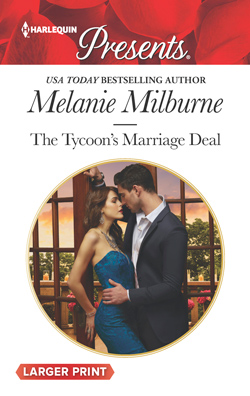 Available: September 30, 2017
Ruthless playboy Blake McClelland dominates in the boardroom and commands in the bedroom. So when he's required to produce a fiancée in order to clinch the most important deal of his life, his solution is as coldhearted as Blake himself—he'll choose a woman innocent enough to convince the world he's a reformed man!
After being jilted at the altar, shy bakery owner Matilda Toppington is in no hurry to wear another man's ring. Blake's cynical proposition is scandalously, shockingly outrageous—of course she should refuse! Unless Tillie dares surrender to the unknown pleasures his sinful gaze promises…
Available from these Retailers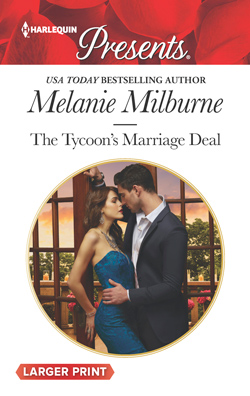 Order The Tycoon's Marriage Deal Now
Coming Soon from Melanie Milburne
A Virgin for a Vow
Available January 1, 2018 from Harlequin Presents
Featured Books
The latest releases available from author Melanie Milburne.
View All Books
News & Updates
Spring Writing Fever!

Hi everyone, I am feeling the energy of spring in the air, which always puts me in a better frame of mind. The cold of winter is fading from memory- although in Hobart is it never quite over! We can have snow on Mount Wellington in December so no one packs their winter wardrobe away too soon. I am writing a duet at the moment, Book One is done and resting while I get on with Book Two. I am hosting another Margie Lawson Immersion on the East Coast of Tasmania next month, which is super- exciting. I hope you enjoy my most recent release. which I worked on during a previous Immersion- The Tycoon's Marriage Deal. Best wishes, Melanie x ...[ full story ]
Springing in to Romance!

Spring is just around the corner and so is the Romance Writers of Australia conference in Brisbane this week. The… [ full story ]

Double RUBY Nomination!

I am so thrilled to announce that I have received a double nomination in the Romance Writer's of Australia Romantic… [ full story ]