All About Melanie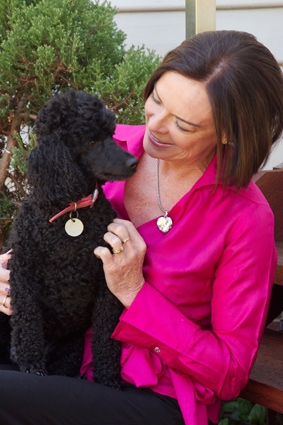 I grew up on a small farm on the outskirts of Sydney and as a keen horse rider, often competed in local gymkhanas and even broke in a few horses from time to time. As I was surrounded by animals, I decided at an early age to become a nurse, however I couldn't stand the sight of blood and so opted for a career in teaching. It's a bit ironic that I married a surgeon.
I read my first Mills & Boon novel when I was 17 and that encouraged me to continue reading romance novels; the lure of the tall dark handsome hero, who in reality I fell in love with and agreed to marry on our second date! We moved to Scotland so my husband could work and study for his MD in surgery. Two lively sons later I decided teaching was the last thing I wanted to do – I knew when I was beaten!
I went back to University and up-graded my teaching diploma to a degree and then went on to do a Masters but still I felt as if something was missing. I sat down one day and began writing and everything clicked into place – I had finally found 'my brilliant career'! I write from a combination of instinct/pantsing and plotting/ planning. It rather depends on the story idea and the characters. My process has changed from when I first started where I wrote purely on instinct. But even with the best laid plan the characters will still insist on doing things their way! Because I am a keen athlete I find the times I swim really helpful-I find a three kilometre swim will often solve a plot dilemma!
I learnt to swim as an adult and after some great coaching, I went from a non-swimmer to National Top Ten in Master's Swimming plus several State records. I look on any scary task now in much the same way I did swimming. Yes, I'm scared but I can at least try, rather than say I can't. I guess you could say that's my motto-Don't say I can't-Say I can try!!
Writing is a skill that can be learned and the best way to learn it is to read and to write. So many people feel they have a novel in them and very probably they are right-the only trick is to get it out. My advice to 'would be' writers is to write, write, and write even more. Carry a notebook at all times and jot down ideas. And like any other activity the more you do, the more it feels comfortable.
I hope you enjoy my stories and look forward to hearing from you.
a day in my life
questions & answers
Q: What made you choose romance as a genre?
A:

I think it's hard-wired into my personality to make everyone around me happy. I'm a fix-it person. When I read my first romance at seventeen it sealed it for me. I knew that was what I wanted to write.
Q: At what age did you know you wanted to be a writer?
A:

I was about six or seven when I started writing my own stories. Before that I made them up in my head. I remember being frustrated at age four that I couldn't read for myself. As soon as I attended school I was one of the first to learn to read. I still remember the wonderful feeling of losing myself in a story.
Q: Do you ever suffer from writer's block and how do you overcome it?
A:

I have never had writer's block per se but I've had scene block, setting block or character block. If I have stalled it is usually because the story isn't strong enough in some way, or I've overwritten it, or written myself into a corner. I find it helps to go for a long walk to clear my head. Even taking a day or two off when I ban myself from my work in progress and just read can be an amazing breakthrough. Staring at the screen in a rising panic never works.